Velocity lawyer Melanie Gardin receives Charles J. Clark Award

Posted on April 9, 2018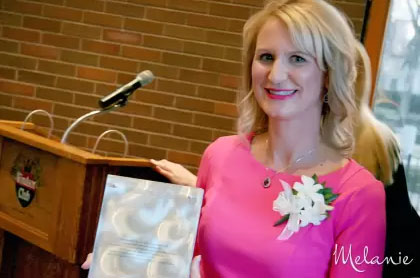 Melanie Gardin has spent years helping improve the lives of people with disabilities. She's also contributed to the fight to end poverty in the Windsor region.
For these efforts, and many others, the personal injury lawyer was recognized Saturday with the Charles J. Clark Award. The honour is awarded every year to recognize members of the Essex Law Association.
"Melanie has accomplished more (in her 16 years as a lawyer) than many who have practised for many more years," said Mary Fox, who presented Gardin with her award at the association's annual general meeting.
Commitment to community
The award rarely goes to people still in the prime of their careers, Fox told the crowd at the Windsor Club. Far too often, she explained, the award goes to lawyers who are about to retire – sort of like a "parting gift."
"It's greatly important that our profession recognize young lawyers," said Fox, who also nominated Gardin.
The Charles J. Clark Award recognizes people for their commitment and leadership in community service. It also recognizes leadership among those who promote the goals of the legal profession.
"This is truly humbling," Gardin said of the recognition.
Truly dedicated
The Windsor native has been with the Brain Injury Association of Windsor Essex County for 10 years. She's also helped create the Beyond Disability Rehabilitation Network, which helps improve the lives of people living with chronic disability.
As a founding partner at Velocity Injury Law, Gardin said groups like these were a natural fit for her.
"I've seen how brain injuries alter people's lives and I've seen the bravery it takes to recover from these injuries," she said.
Gardin is also part of the Women Leading the Way campaign, a United Way initiative that aims to empower women leaders to improve the lives of others in the community. The main focus of the group has been the fight to end intergenerational poverty.
---
We wish we could give clients their old lives back. Fortunately, we can do the next best thing: give them back the sense of security they had before their accident and help them rebuild their lives. This involves obtaining a fair monetary settlement and secure rehabilitation for an alternative future path in a reasonable amount of time.

Call Velocity Injury Law at 519-946-4300
Our goal is to get back to you about scheduling a free consultation on the same day.
In The Community

The lawyers and staff of Velocity Injury Law can often be found out in the community. Whether we are volunteering for charitable organizations, serving as members of local boards, or participating in recreational and fundraising events, we enjoy being actively involved in and giving back to our community.
Read Our News