Celebrating a Milestone! 15 Years & Counting.

Posted on June 24, 2021
We are celebrating a milestone here at Velocity Injury Law LLP. – Melanie Gardin and Rochelle Cote have been working together for 15 years!
Melanie and Rochelle were recently reminiscing about Rochelle's initial interview which took place in Bill Chapman's office back in 2006. Rochelle was interviewed by Bill Chapman, Donald Gordon and Melanie. Rochelle was initially hired to work with Bill, but within a short time transitioned to working for Melanie.
The day of my interview I remember being very nervous as I had not been on a job interview for over 20 years and was going to be interviewed by 3 lawyers! That being said, Bill, Don and Melanie made me feel very comfortable and as you can see it all worked out!
In truth, the years feel like they have flown by.
Melanie on Rochelle:
So, Rochelle will tell you that she's been a legal assistant since before Jesus was born! It's this sense of humour that makes working together so enjoyable. Rochelle comes to work with a positive attitude and big personality. Over the years she has been a shoulder to lean on for many clients and I know they appreciated that friendly voice and calming reassurance. I've jokingly told Rochelle she's earned a social work degree by this point in her career. Rochelle is truly a wonderful person with a huge heart and it's been a blessing to have her working by my side these last 15 years. Cheers to many more!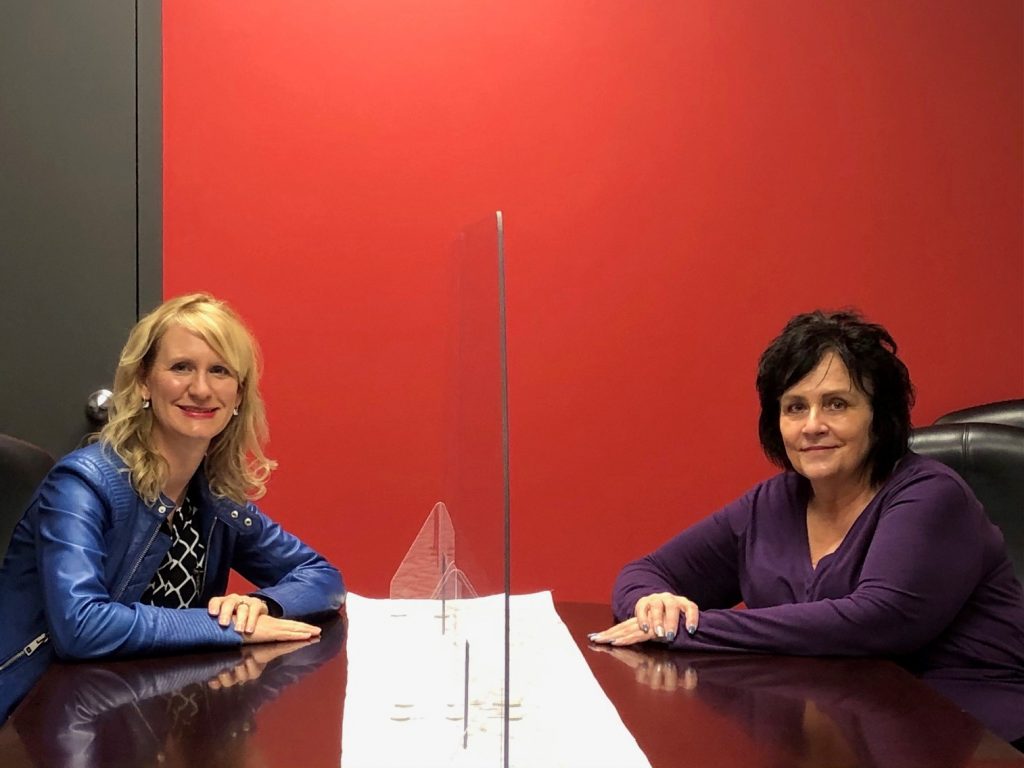 Rochelle on Melanie:
I have worked in law for over 35 years and can honestly say that working with Melanie these last 15 years have been the best of my career! Melanie is so easy going which makes work so enjoyable. Melanie is very calm and always in a good mood! I think I remember two instances where I saw her lose her cool. Once when a shared server went down and there were serious concerns about when it was last backed up and the other time was when a new client of ours with cancer was denied long-term disability benefits! Melanie is passionate about helping people and will do anything she can to help our clients. I am of the same view and I believe that is why we work so well together. Also, we both have crazy fun personalities and are from the same little town in the county! Here's to 15 more Mel!
If we had been married, the traditional gift would be crystal. The modern gift would be a watch or other timepiece. We've decided to celebrate with a spa day and lunch once we can.
Download Newsletter (PDF)
We wish we could give clients their old lives back. Fortunately, we can do the next best thing: give them back the sense of security they had before their accident and help them rebuild their lives. This involves obtaining a fair monetary settlement and secure rehabilitation for an alternative future path in a reasonable amount of time.

Call Velocity Injury Law at 519-946-4300
Our goal is to get back to you about scheduling a free consultation on the same day.
In The Community

The lawyers and staff of Velocity Injury Law can often be found out in the community. Whether we are volunteering for charitable organizations, serving as members of local boards, or participating in recreational and fundraising events, we enjoy being actively involved in and giving back to our community.
Read Our News